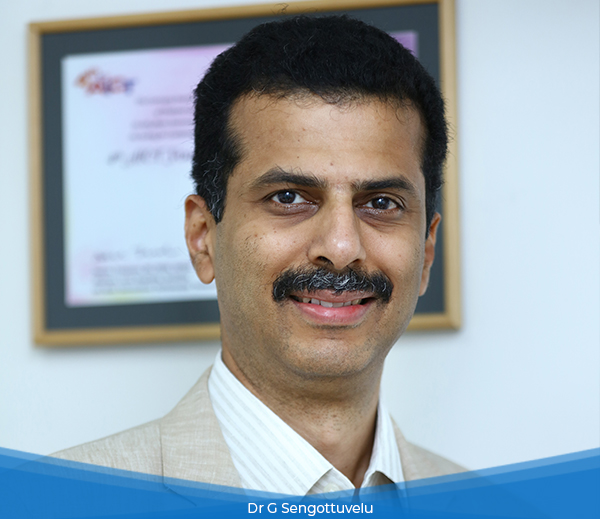 Dr Pratap C Reddy , Chairman, Apollo Hospitals, giving the award for excellence in clinical innovations – 2017
Advanced, Evidence-based Heart Treatment
Dr G Sengottuvelu
Advanced, Evidence-based Heart Treatment
Dr G Sengottuvelu with his Mentor Marie Claude Morice
Advanced, Evidence-based Heart Treatment
Dr G Sengottuvelu with Chairman
Advanced, Evidence-based Heart Treatment
Teleconsultation is available now.

Dr. G.Sengottuvelu is a Senior Consultant & Interventional Cardiologist at Apollo Hospitals, Greams Road, Chennai. He is an accomplished leader in complex PCI & stenting, and structural heart interventions including percutaneous heart valve replacement & repair (TAVI / TAVR, mitral clip etc.). He also offers consulting at Dr G.S. Heart Clinic in T.Nagar, Chennai. He has a very good academic track record with publications in highly reputed peer reviewed journals.
Dr. G. Sengottuvelu graduated from the prestigious Madras Medical College, followed by Internal Medicine, and then post graduation in Cardiology. He then undertook fellowship in interventional cardiology in a prestigious institute in France with world renowned Dr Marie Claude Morice. Dr.G.Sengottuvelu is recognized for his pioneering work in complex coronary stenting and structural heart valve interventions and has performed over 15,000 procedures in the cathlab.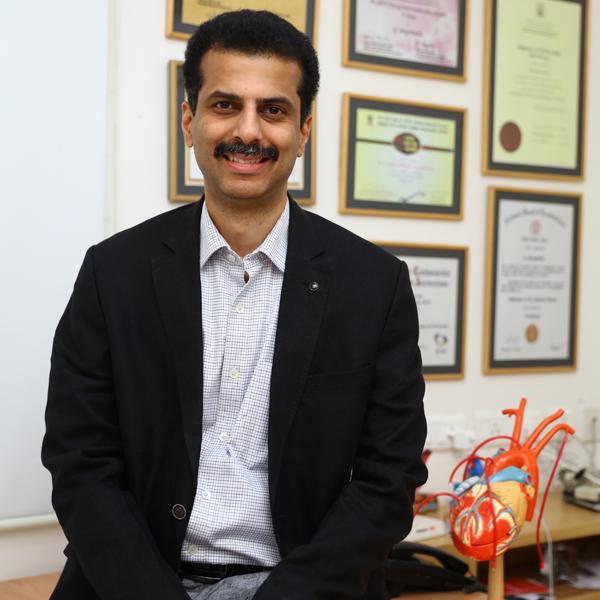 Areas of Expertise
Dr. G.Sengottuvelu is highly specialised in Interventional Cardiology with focus on adult coronary and structural Intervention. Structural interventions include transcatheter aortic valve implantation (TAVI or TAVR), transcatheter mitral valve replacement (TMVR), Transcatheter pulmonary valve replacement (TPVR), transcatheter tricuspid valve replacement (TTVR), mitral clips and other interventions.
Coronary expertise includes transradial angiogram & PCI, complex coronary angioplasties and stents, transradial minimally invasive intervention, primary angioplasty in acute heart attack, bifurcation angioplasty & Stenting including Dedicated Bifurcation stents, Post bypass graft Angioplasty, Left main stenting, PTCA involving chronic total occlusions, Use of devices such as the Flextrome, distal protection systems, drug eluting balloons (DEB), atherectomy, rotablation, optical coherence tomography (OCT) imaging, bioresorbable vascular scaffold (BVS), intravascular ultrasound (IVUS) and fractional flow reserve (FFR).
1st in South/Central India to use Opticross Intravascular Ultrasound Systems IVUS
1st in India to use Absorb Bioabsorbable Vascular Scaffold . (December 2012)
1st  to use Indian tapering Meres BRS scaffold
1st in South India to use Optis Optical Coherence Tomography systems
1st in South India to use Minvasys Dedicated Bifurcation stent system
1st in South India to use Clearway catheter in primary angioplasty in Acute MI
1st in Chennai to use M guard Stent Technology
Dr. Sengottuvelu G performed the first successful Transcatheter aortic valve replacement (TAVR) for aortic valve stenosis in Tamil Nadu in 2015
Dr Sengottuvelu & Team performed the first TAVR in the entire Apollo hospitals group in India in 2015. Also performed the first TAVR procedures in in Apollo hospitals in Chennai, Bangalore and Madurai.
First time did a Live demonstration from Apollo group of hospitals in Jan 2018. Subsequently have done several live demonstrations to many meetings.
India's first Evolut R in Bicuspid Aortic Stenosis 
For the First time in India, Patient gets Next day discharge after valve replacement
South India's first Sapien 3 valve Implantation
First in south India to implant Evolut PRO Valve
First TAVI in India using 20 mm Sapien 3 valve for a patient with small annulus size.
Evolut Pro Valve TAVR in Bicuspid aortic Valve for the  first time in India.
First time in India, Successful TAVI was some using both Carotid and coronary support in an extreme high risk patient
First time in India, successful emergency TAVI was done after in hospital cardiac arrest in a patient with severe AS.
91 -year-old man is one of the India's oldest high risk patient to undergo a successful TAVR procedure.
First commercial India made Myval in Chennai
He is one among the very few cardiologists in India experienced to perform all types of approved Valves Medtronic- Core valve, Evolut R, Evolut Pro, Edwards- Sapien 3, Meril – MyVal and is involved in training many other cardiologists.
Transcatheter Aortic Valve Replacement (TAVR)
Transcatheter aortic valve replacement (TAVR) is a minimally invasive procedure to replace a narrowed aortic valve that fails to open properly.
Transcatheter Mitral Valve Repair (TMVR)
TMVR, also known as transcatheter mitral valve replacement is a way of replacing the mitral valve in the heart without the need for conventional open-heart surgery.
MitraClip
MitraClip is a breakthrough innovation for mitral valve patients. It is a device used to treat mitral valve regurgitation .

Rotablation
Rotablation represents an addition to the standard PTCA procedure and uses a tiny drill, powered by compressed air, to remove calcified deposits.

Complex Angioplasty
Angioplasty is a procedure to restore blood flow through the artery to combat coronary artery disease by removing plaque.
Intracoronary Imaging IVUS, OCT
Intracoronary imaging techniques (intravascular ultrasound (IVUS) and optical coherence tomography (OCT)) are used in combating coronary artery disease.

Bioresorbable Vascular Scaffold
The BVS a non metallic mesh tube that is used to treat a narrowed artery, is similar to a stent, but slowly dissolves once the blocked artery can function naturally again.
Intracoronary Physiology FFR
Fractional Flow Reserve, or FFR, is a guide wire-based procedure that can accurately measure blood pressure and flow through.

Transradial Intervention
The transradial technique is an effective, minimally invasive approach to perform coronary and peripheral angiograms and interventions.
Sentinel – Cerebral Embolic Protection Device
It is indicated for use as a cerebral protection device to capture and remove embolic material while performing transcatheter aortic valve procedures in order to reduce ischemic injury to the brain peri-procedurally.
"Rahul Dravid of India" – Dr. Karthik, Bangalore 2018
"Cardiologist with magic hands" – Mr. Parekh, patient
"Antonio Colombo of India" – Dr. Sripal Bangalore, USA 2016
"To us he has divine powser" – Ms. Shreya, patient
"Highly skilled hand" – Dr. Marc Silvestri, France 2005
"Dr.Sengottuvelu is a very gentle, caring , pleasant and takes time to listen to our concerns. I love the personal service and attention I receive when I visit him. He is highly knowledgeable and down to earth. If we are under his care and treatment we can be assured that we are in safe hands."
"I had severe breathing difficulty requiring repeated hospital admissions for severe aortic stenosis and COPD and many surgeons refused open heart surgery. I had completely lost hope. All that changed with Dr Sengottuvelu's expertise and the TAVR procedure on 11th Feb, 2016. I felt fresh and young,happy and feel strong. Thank you for everything."
"I liked Dr. GS for his simplicity and reassuring attitude. The clinic has all the facilities of a high level cardiology centre and paraphernalia. Staff are courteous and prompt in responding. Very cooperative. Dr GS's way of handling cases is more practical; patient oriented; and very comfortable."

Advanced, Evidence-based Heart Treatment
Dr G.S. Heart Clinic No 14/1 & 2, Thirumurthy Street , T.Nagar, Chennai 600017. Tamil Nadu, India.