Interventional Cardiology Fellowship
Fellowship in Interventional Cardiology at the prestigious Institut Cardiovasculaire Paris Sud, Paris, France (2002-2003) under Dr. Marie Claude Morice.
Trained in complex coronary interventions.

Trained in Transradial approach in France under Dr.Thierry Lefevre and Dr.Yves Louvard – as a primary operator done more than 3000 radial procedures including more than 500 transradial interventions including Complex PCI.

Coronary interventions including bifurcation lesions, left main, ostial, multi-vessel, bypass graft interventions, primary angioplasty in acute myocardial infarctions, renal artery interventions and femoral site closure devices.

Magnetic resonance Imaging in cardiac evaluation.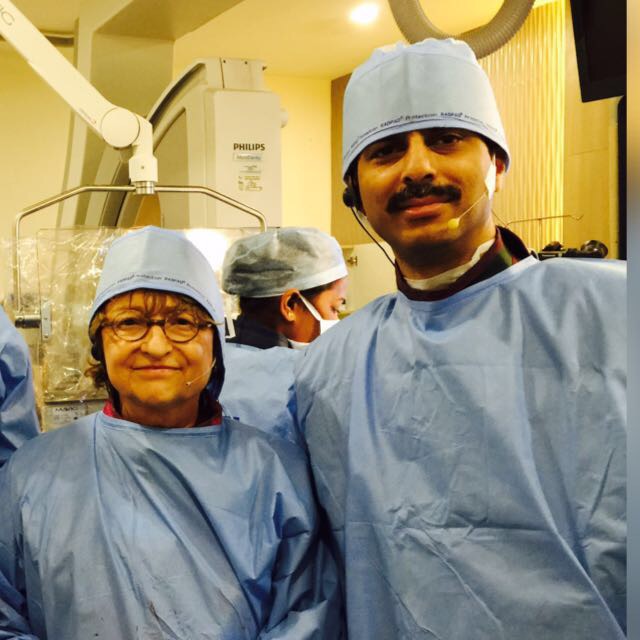 Advanced Interventional Cardiology – Formal Training & Experience
Coronary : As a primary operator done more than 15,000 procedures of which more than 90% are radial procedures.

Complex PCI's including Primary PCI's, Ostial lesions, Bifurcation lesions, Left main, Chronic total Occlusions, Vein grafts, Small vessel stenting and Multivessel disease done by Radial approach.

Highly experienced in Intra coronary FFR and Imaging – OCT& IVUS.

Dedicated bifurcation stents, Complex Bifurcation Stenting, Left Main etc.

Highly experienced in Rotablation, flextrome, Angiosculpt devices

Drug eluting balloons, ISR management

Highly experienced in implantation of Bioresorbable scaffolds – Absorb, Meres 100

Rotablation

 –

Formal training in the basic techniques of Rotablation atherectomy with experience in more than 100 Rota cases

FFR

Dr Chang, Malaysia, June 27-29, 2012.

Imaging – OCT/IVUS

Workshop in Apollo Hospitals

Training in Renal Sympathetic Denervation for Resistant Hypertension

–

Trend Workshop – Hong Kong – 2011

BVS (Bioresorbable vascular scaffold) & OCT – Thorax Centre – Rotterdam, Netherlands Feb 2013

Transcatheter Aortic Valve Implantation (TAVR)
Team Approach to TAVI – Training programme,Nov 5

th 

& 6

th 

2013 at Tolusenez, Switzerland.

Hands on Training 0n TAVR in ICPS Massy, under Dr Marie Claude Morice, Dr Thierry Lefevre and Dr Bernard Chevalier – performed 15 cases with Medtronic Core Valve and Edwards Sapien 3 valves – May 2015

Evolut R Certification Programme, New Delhi Dec 2015

Edwards Sapien 3 Training, Cidar-Senai Hospital Los Angeles, November 2016.

Advanced TAVR workshop, Dr Caskey New Delhi 2017
Transcatheter Mitral Valve Repair
Percutaneous Mitral Repair

Mitral Clip First series of cases performed in April 2019 with the guidance of Dr Sibal Kor from Cidar Senai hospitals, Los Angeles USA world renowned expert on Mitraclip
Interventional Cardiology  Teaching
As associate professor in cardiology, significantly contributed to Post-graduate teaching and conduct of examination. He has immensely contributed to  training of post graduate students ( DM and DNB cardiology) in cardiology and also particularly hands on skills in coronary angiogram and intervention. He has been a research guide for several post graduate students and helped to successfully complete them.
 He has made extraordinary contribution to postgraduate education during his tenure as  the state secretary of interventional council, during which he strengthened the academic platform by conducting hands on workshop, small group learning and live case demonstrations.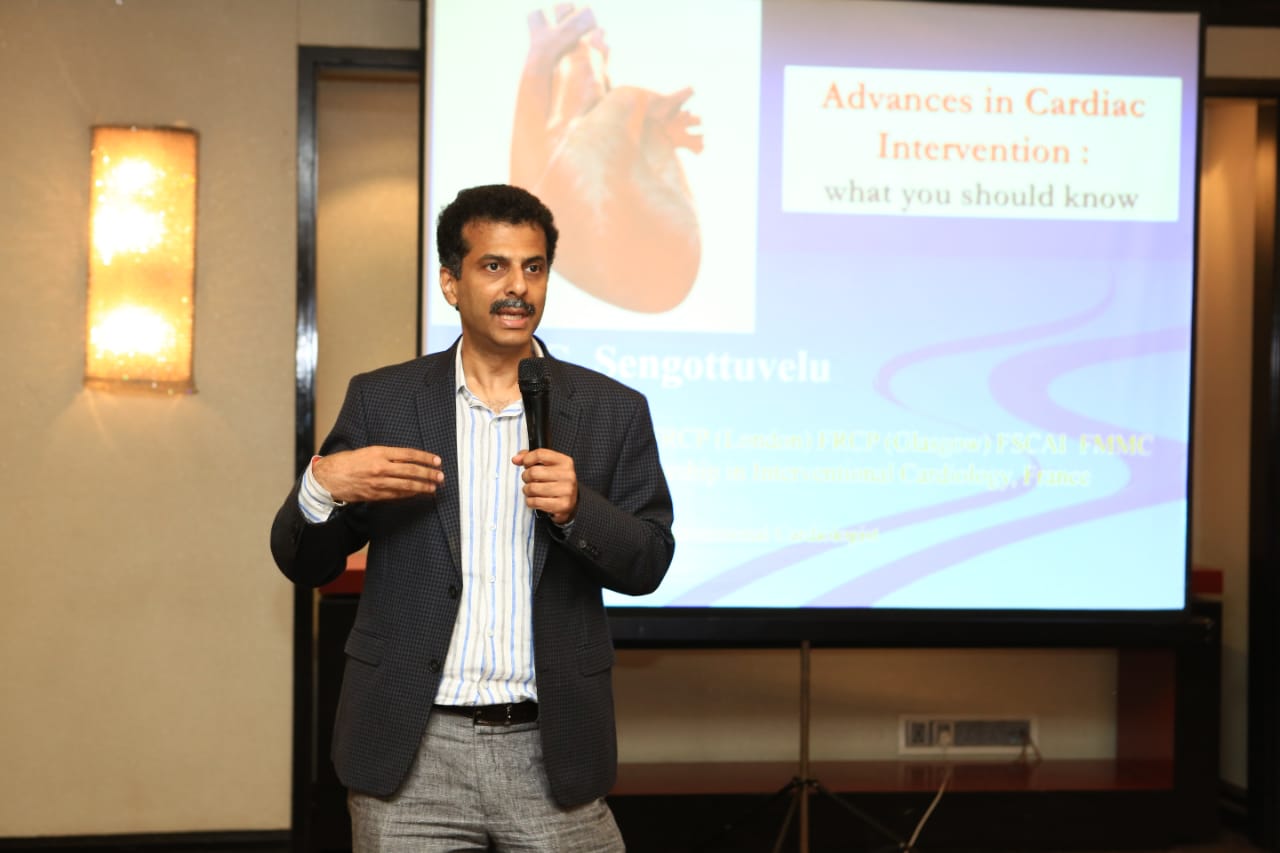 In the annual meeting for the first time he introduced hands on simulator training for DM (cardiology) postgraduates for various interventional procedures. For the first time, he introduced "Abstract Submissions" in interventional council meeting to encourage original research among post graduates.  Best paper was awarded.
IPCI training course : We conduct quarterly training courses for group of 10-15 interventional cardiologists from all over India on Intra coronary Imaging & physiology.

Faculty Coordinator : Medstep Program – 2 day program for  Cardiologists, Mumbai

Cathlab Technician Training  – Apollo Hospitals, Hotel Sabari Inn

Faculty in TACVI, Hyderabad – lectures and Live cases to train young interventional Cardiologists

Meenakshi Medical Mission RACI (Regional academy of Cardiac Interventions) Meeting – Live demonstration of Clearway Catheter

Live demonstration – Southern railway hospital, Chennai

Indo French meeting, JIPMER Hospitals, Pondicherry – Live demonstration of Bioresorbable vascular scaffold implantation

Live demonstration – Apollo Hospitals, Bangalore

Course faculty –SCAI, Fellows Course Asia, Sept 30-Oct 2, New Delhi

Live demonstrations – Medtronic bifurcation summit, Chennai, Madurai

Live IVUS workshop, Pune

Live demonstration – Apollo Hospitals, Trichy

Live demonstration – Kaveri Hospital, Trichy

UN Mehta Institute OCT workshop, Ahmedabad, Gujarat

Live demonstrations during TIC 2015, 2016

Live in Box – NIC 2016

Hyderabad live – Live demonstration

India Live 2017- Live demonstration

Live Demonstration – OCT and IVUS, Banaras Hindu University,Varanasi August 2017

TIC 2018 – Live TAVR demonstration Evolut R

India Live 2018 – Live TAVR demonstration Sapien 3

Live demonstration and complex coronary workshop, dept of cardiology, Government general hospital, Chennai April 2018
One of the highly experienced TAVR operators in India with experience in Medtronic Core Valve, Evolut R and Evolut PRO Valves, Edwards Sapien 3 Valves and Indian Myval.

Performed the first TAVR in the Apollo group of Hospitals in 2015

Performed  Evolut Pro Valve TAVR in Bicuspid aortic Valve for the  first time in India.

First in India to treat Rheumatic Aortic Stenosis with Transcatheter Aortic Valve

First in South India to do Edwards Sapien 3 Valve

First in South India to implant Evolut PRO Valve

91-year-old high risk patient is India's oldest post CABG patient to undergo a successful TAVR procedure

Performed India's first next-day-discharge after TAVR
Use of Newer Therapies / Devices
New Devices in Primary PCI – M guard, Clear way Catheter
Dedicated bifurcation stent
Drug eluting balloons
FFR – Over 200 case done using IV / IC Adenosine
OCT ( using contrast & Dextan) – Different subsets
Training in Renal Sympathetic Denervation for Resistant Hypertension – Trend Workshop – Hong Kong – 2011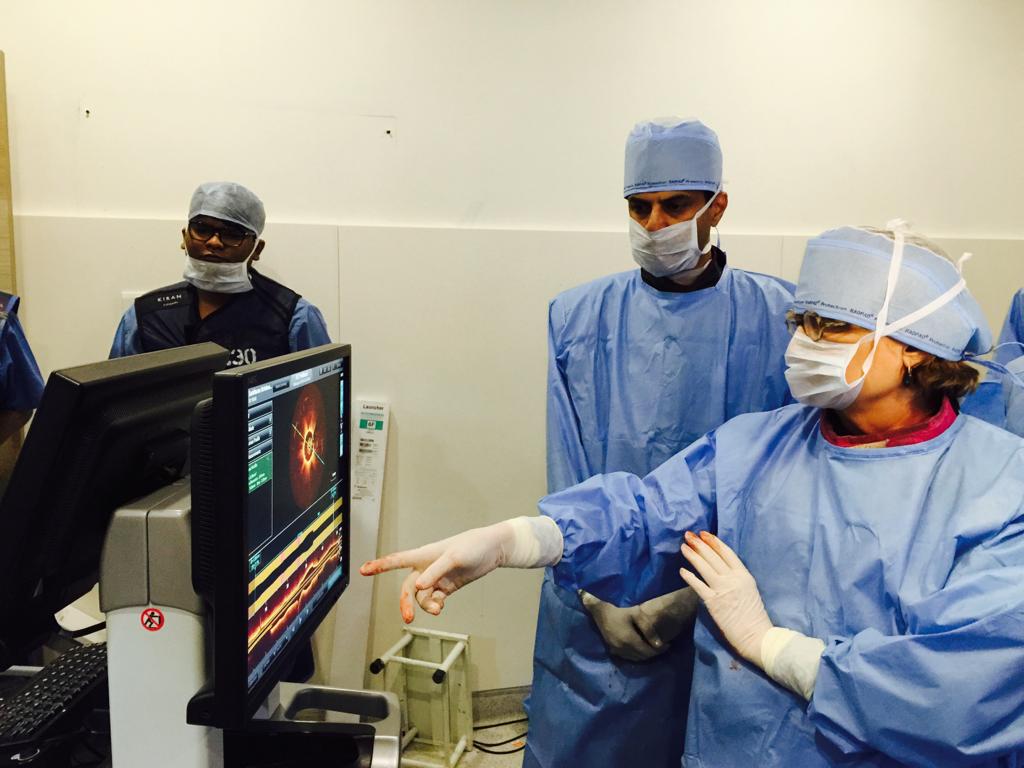 Teaching UG  – 25 Years
Teaching PG   – 22 Years
Research         – 28 Years
Professional Memberships / Positions
Indian Medical Association

Association of Physicians of India

Cardiological Society of India

Society for Coronary Angiography & Interventions

Indian Academy of Echocardiography

Asia Pacific Society for Interventional Cardiology

Member, British Cardio Vascular society
Workshop on Left Main PCI – Dr.MarcSilvestri from University of Marsailles, France
First Indo Japanese CTO course held at SRMC & RI in Nov 2005 with Prof. Masahiko Ochiai as course director and Counsel General of Japan Mr.Y. Kodaki as the chief guest held at Harvard auditorium, SRMC & RI, Chennai in 20th Nov 2005.
CTO Workshop in Apollo Hospitals – 1st August, 2013, Feb 2017.
Tamil Nadu Interventional Council Annual Conference at Chennai 2014-2016
IVUS workshop – Bangladesh physicians
OCT workshop with Dr. Lino on 18th April 2016

Update on Percutaneous Valve Therapies, Chennai April 2017.
Actively involved with PCR on its educational activities and is a member of VITAL (visionary transformative adult learning) group

Officially invited to grade abstracts and case submissions Asia PCR 2016 -18  

Officially invited to grade case submissions India Live 2015-18  

Officially invited to grade abstracts and case submissions PCR Tokyo Valves 2018

Officially invited to grade abstracts and case submissions Euro PCR 2018

Journal reviewer : Asia Intervention

Journal reviewer : Indian Heart journal

Journal reviewer : CCI journal

Advanced, Evidence-based Heart Treatment
Dr G.S. Heart Clinic No 14/1 & 2, Thirumurthy Street , T.Nagar, Chennai 600017. Tamil Nadu, India.
For Appointments at GS Heart Clinic Call:  +91944 577 6666 / +9144 28346666                                   
For Medical Related Queries Call: +919445226666
For Appointments at Apollo Hospital Call:  +91442829641